Biography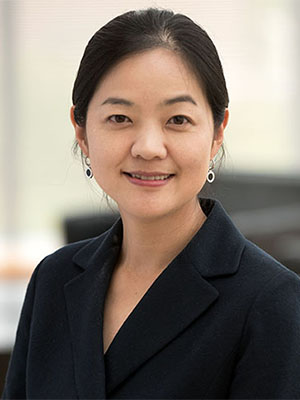 Gwen Yu is an associate professor at the Ross School of Business, University of Michigan. Her research focuses on how accounting information affects various real economic outcomes, especially in an international setting. Professor Yu's work has been published in top peer reviewed journals such as The Accounting Review, Journal of Financial Economics, Journal of Accounting and Economics. Additionally, it has been cited or discussed in The New York Times, The Financial Times, CBS Money Watch, and other outlets of the financial press. She is on the Editorial Board of The Accounting Review.
At Ross School of Business, Yu teaches in the second year MBA program. She has previously taught in the MBA, Doctoral and Executive Education programs at Harvard Business School. She has provided executive education to a wide range of firms and authored many cases which are used around the globe.
Professor Yu holds a Ph.D. in accounting from the University of Michigan, where she also earned a master's degree in applied economics. Prior to joining Ross, she was a faculty member at Harvard Business School in the Accounting and Management unit. Before pursuing her graduate studies, she worked at McKinsey & Company and the global reinsurer Swiss Re.
Employment
2018 – Current: Arthur Andersen Associate Professorship of Accounting, University of Michigan Ross School of Business
2017 – 2018: Associate Professor (with Tenure), University of Michigan Ross School of Business
2015 – 2017: MBA Class of 1962 Associate Professor of Business Administration, Harvard Business School
2010 – 2015: Assistant Professor, Harvard Business School
Education
2010: Ph.D., Accounting, University of Michigan Ross School of Business Dissertation: "Accounting Standards and International Portfolio Holdings: Analysis of Cross-Border Holdings Following Mandatory Adoption of IFRS"
2010: M.A., Applied Economics: Econometrics and International Finance, University of Michigan
2002: B.A., Business Administration, Yonsei University, Seoul, South Korea
Awards
2019: FARS Outstanding Discussant Award
2019: C.K. Prahalad Research Award, Ross School of Business
2019: Ross China Research Award, Ross School of Business
2018: M-Cubed 3.0 funding at University of Michigan, Project: Adopting technology: Institutional drivers and barriers
2017: FARS Outstanding Discussant Award
2017: FARS Excellence in Reviewing Award
2011: AAA Outstanding International Section Dissertation Award
2009: Center of International Business Education Dissertation Award
---
CV